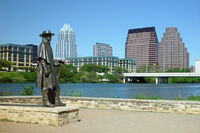 Austin is famous for its music and arts culture and for being a blue city in the middle of a red state.
Many of Austin's hipster residents move to New York to search for the end of the rainbow and jaded New Yorkers often move to Austin to become slackers. Dude brahs typically move to Los Angeles to become beach bum actors and tech people don't talk to anyone not driving a BMW or Hummer, apparently they live in the hills somewhere near Lake Travis.
Ad blocker interference detected!
Wikia is a free-to-use site that makes money from advertising. We have a modified experience for viewers using ad blockers

Wikia is not accessible if you've made further modifications. Remove the custom ad blocker rule(s) and the page will load as expected.